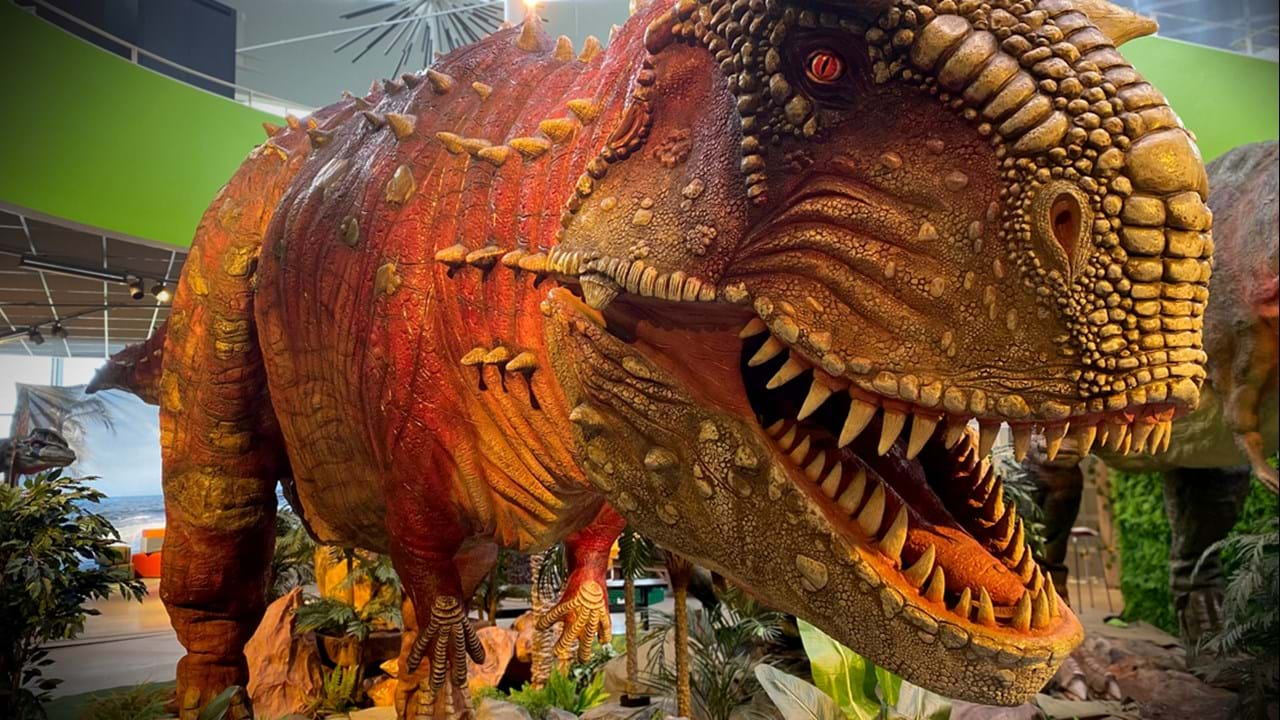 Fun family activities in Sarpsborg, featuring Norway's biggest Dinosaur exhibition, a Planetarium, a Bike park and more!
INSPIRIA science center is primarily used for education purposes on weekdays. But during weekends and holidays, it transforms into an adventure park with fun activities for children of all ages.
On this page we've summarized some of the highlights – as well as practical information – in English.
If you do not find the information you need here, you can contact us via INSPIRIA's Facebook page (Messenger) or by sending an email to booking[at]inspiria.no. Our hosts and receptionists can also try to answer any further questions you may have upon arrival.
Where is it?
INSPIRIA science center is located at Bjørnstadveien 16, 1712 Grålum Google Maps »
Welcome to INSPIRIA!
Ticket prices:*
0-2 years old: Free
3-100 years old: 130,- NOK 
Family ticket (2 adults, 2 children): 450,- NOK
* The prices above apply for weekends + holidays. We also offer annual passes
* During the school year, a ticket costs 75,- NOK due to fewer activities
Dinosaur exhibition (~2022)
Our current theme exhibition «Dinosauria» is quite spectacular: Norway's biggest Dinosaur exhibition displays 20 life-size dinosaur models, of which most of them can move their heads and other limbs.
Here, kids (and adults!) get to travel millions of years back in time to meet Tyrannosaurus Rex, Canrotaurus, Stegosaurus, Allosaurus, Brachiosaurus and 15 other incredible dinosaur species that once ruled The Blue Planet.
The animatronic exhibition is made by the renowned creators at Humanoides Ingeniería Animada (Dinosaurios Mexico).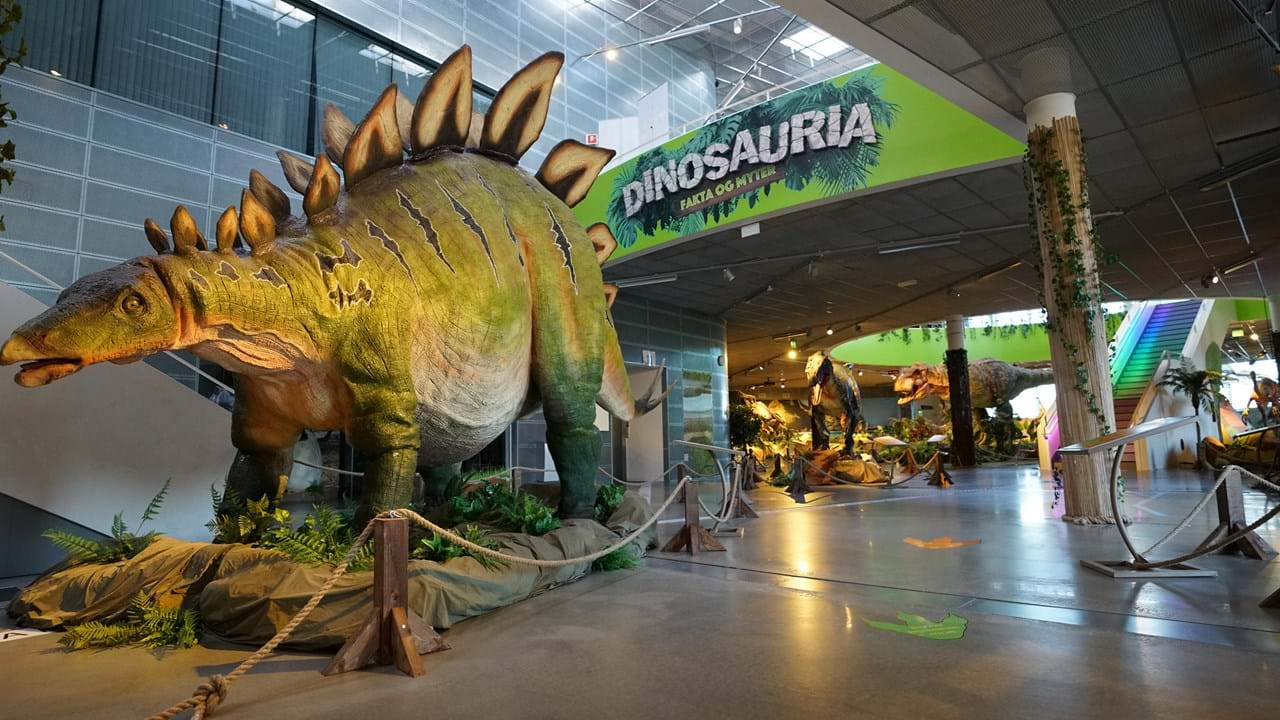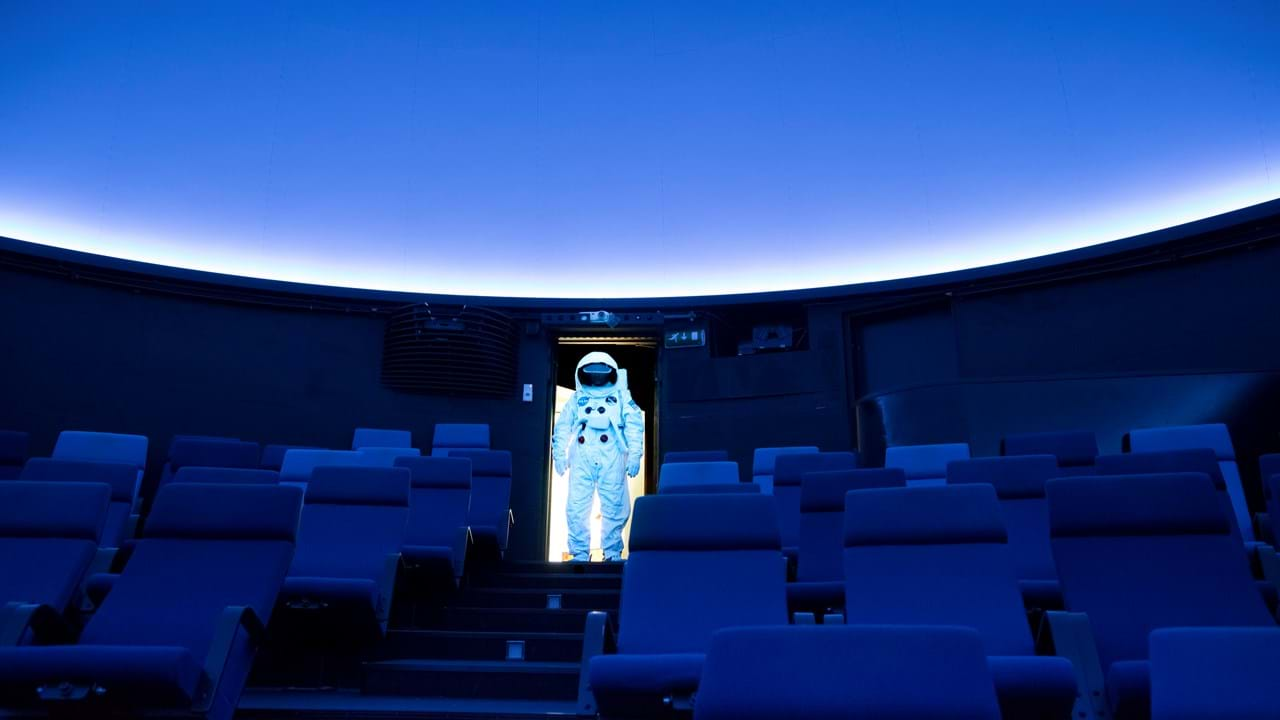 Indoor activities
On the second floor, you'll find a planetarium with a 50 seat capacity, where you get to travel to the stars. A host guides you (in Norwegian) through the galaxies. It's still a remarkable experience, even if you don't understand what the host is saying. The same goes for the Science Show, which includes fun experiments.
Other activities, such as the Coding room or the Lab, as well as the popular iWall and other installations, require little or no instruction. Hosts will be present across the center and offer assistance if needed.
Outdoor activites
The Bike park is free to use if you bring your own bikes, but bike rental for kids is included in the entrance ticket. In addition to the bikeway with signs and stop lights, the Bike park has a «Pump Track» with appropriately sized humps for bigger kids to develop their bike skills.
Adults can try electrical bikes for free on our 500 meter long Test track, which is separate from the Bike park.
The Bungee Trampoline is open during the summer holiday, and the activity is included in the entry fee. Other playground equipment, such as climbers, sandboxes and merry-go-rounds, are located by the kiosk and is free to use at all times at own risk.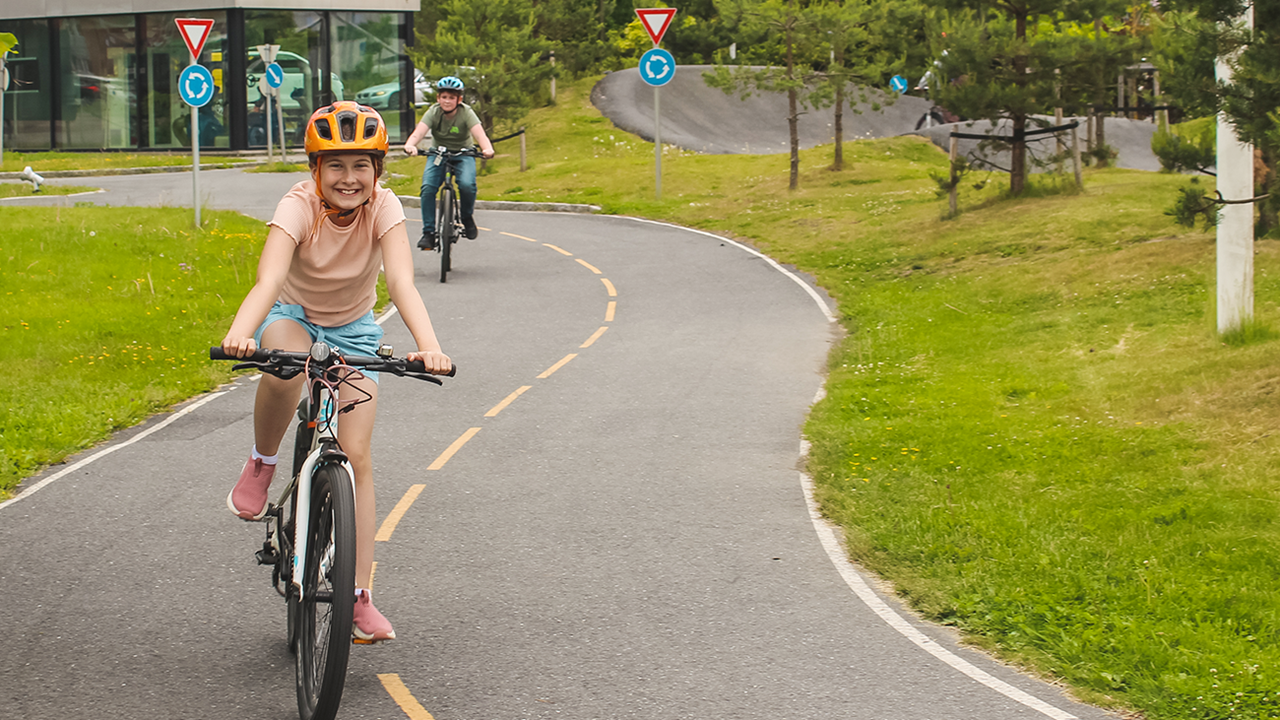 Paid parking and EV-charging
INSPIRIA offers 1 hour of free parking, and then 15,- NOK per hour (max. 60,- NOK per 24 hours). Use the EasyPark App on your phone, or pay manually at the entrance.
INSPIRIA Charge Court runs primarily on solar power and consists of 35 «location chargers» for electrical vehicles (EV). Due to the smart system, using a huge battery to constantly save up energy, we are able to offer discounted prices of only 3,- NOK per kW.
From september 2022, the INSPIRIA Charge Court will get an additional 40 Tesla Superchargers, making it on of the largest (and smartest!) charging stations in Europe. 

Show times - Saturdays and Sundays
Guided tour of the Dinosaur Exhibition: 12:00, 13:00, 14:00, 15:00
Science Shows: 12:00, 14:00, 16:00
Planetarium shows: 11:30, 12:30, 13:30, 14:30, 15:30, 16:30


Activity schedule - Saturdays and Sundays
Indoors
Make your own insect hotel: 11:00–14:00
Coding room: 11:00–15:30
«Dino Laboratorium»: 14:00–17:00
GyroXtreme: 16:00–17:00
Outdoors
Bicycle loans: 11:00–17:00
Electrical bicycle loans: kl. 11:00–17:00
Bungee Trampoline: kl. 11:00–15:00